Connected: An Internet Encyclopedia
Quiz 3 (cont)
---
Up:
Connected: An Internet Encyclopedia
Up:
Programmed Instruction Course
Up:
Subnetting and CIDR
Prev:
Quiz 3
Next:
Summary
---
Quiz 3 (cont)
Quiz ID code: rip-7317730121

The address prefix 219.214.175/24 has been assigned to the diagrammed network. Assign address prefixes to each of the subnets.

Assume that the RIP routing protocol is used throughout.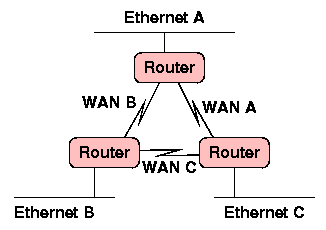 219.214.175/24
---
Next:
Summary
---
Connected: An Internet Encyclopedia
Quiz 3 (cont)